Welcome to Torfastaðir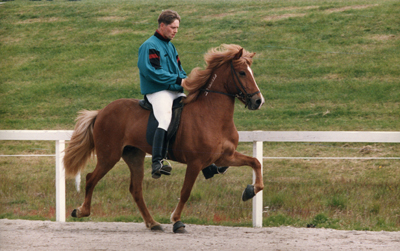 Torfastaðir is in the southern part of Iceland, on the way to Geysir and Gullfoss. There is about 80 kilometers drive from Reykjavík the capital of Iceland. The distance from Keflavik, the airport, is about 115 kilometers. Drífa Kristjánsdóttir and Ólafur Einarsson own Torfastaðir and live there. The farmland that covers about 600 hectares, is all grown and extremely beautiful.
Icelandic horses are the big interest in Torfastaðir. There are around 80 horses in Torfastaðir, about 15 breeding mares, and many young horses from one to five years old. At the age of three the horses are tamed and trained. Many horses were used for the teenagers which were in therapy, others were mostly used in the summer when therapeutic trips were made into the highlands and the nature of Iceland was enjoyed.
In the summer of 2003 a summerhouseland was designed. Now there are many different places available either for renting or selling.
The view in the summerhouseland is outstanding, very beautiful.